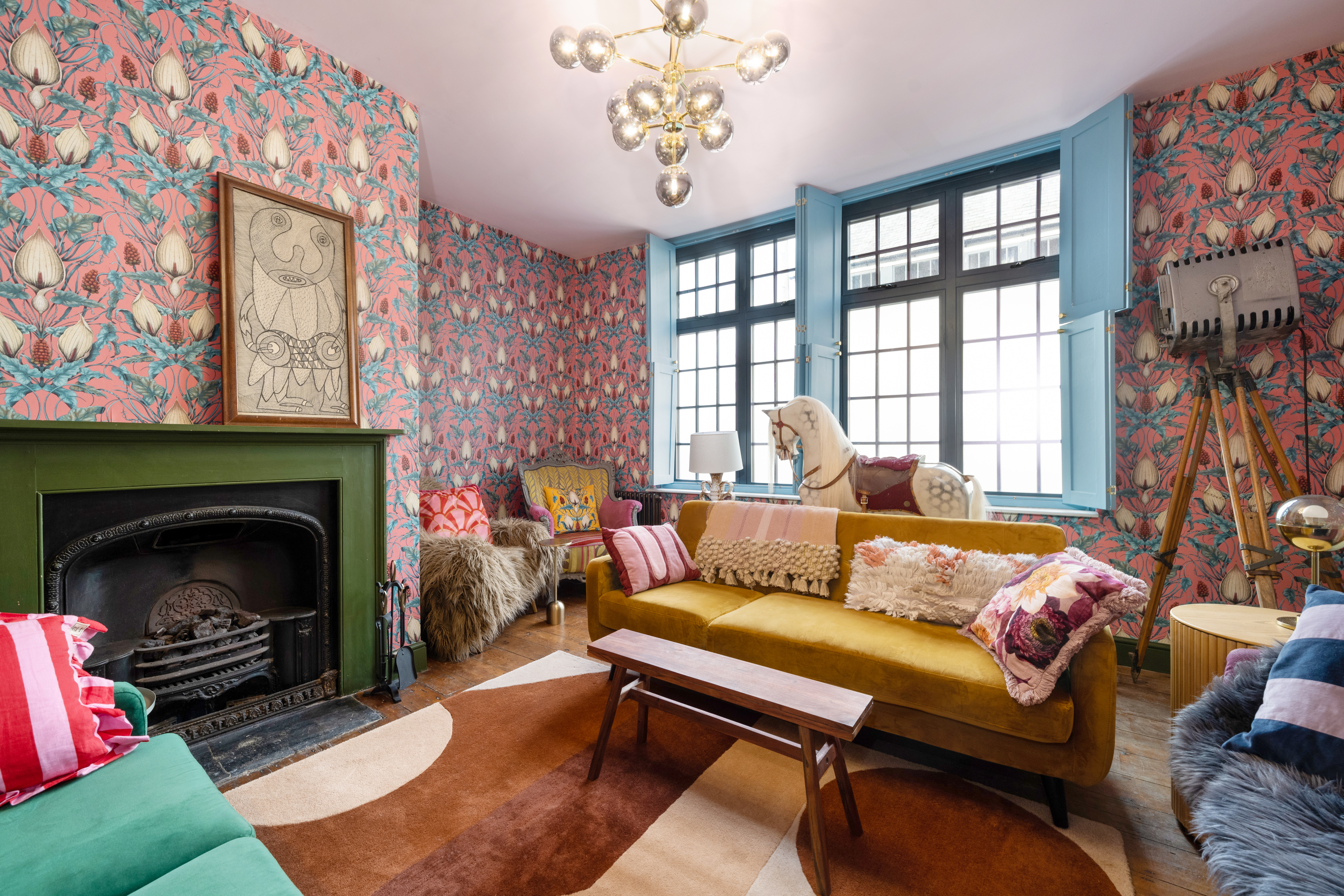 Goodbye tasteful neutrals, hello riotous prints: a Georgian renovation that delights in colour
Georgian interiors tend to be decorated with quiet, tasteful dignity – all subdued hues and well-polished wood. But Nicola Gill, the owner of the Old Stout House in Rye, East Sussex, wasn't fired up by this approach: "I didn't want to do another Georgian renovation with a palette of sludgy neutrals, portraits leaning against walls and pared-back styling. The Georgians were exuberant, colourful and hedonistic, using vibrant colours and pattern. I wanted an uplifting clash of styles, eras, patterns, textures and colour."
Built in the late 18th century, the building has a varied past – as an ale house, a grocer's and a haberdasher's before becoming a home in the 1960s. When Gill, a writer and interior designer, and her musician partner Pete found the place in late 2021, it was completely unmodernised, with no central heating and ancient electrics and plumbing.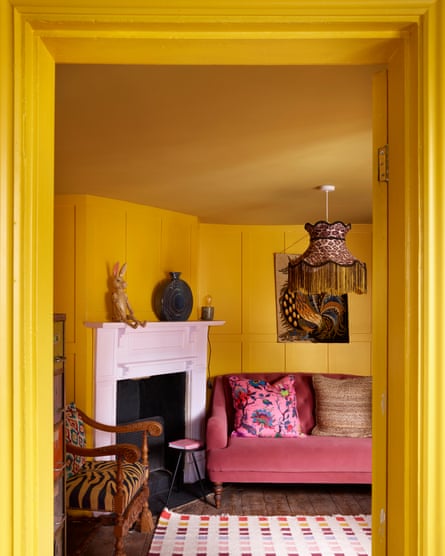 Nicola uses vivid colours, even in small rooms.
On the lower ground floor, there's a dining room and a kitchen that opens on to the garden. The upper ground floor has a living room, a bedroom and a bathroom. There are another two bedrooms, which share a bathroom, on the floor above and a bedroom and bathroom in the attic. Unlike many of its neighbours, the house had escaped listed status, but it turned out to have a list of problems, from wet and dry rot to severe woodworm. "We had wanted to keep the original horsehair plaster but that was damaged beyond repair," says Gill.
The couple stripped the house back to its original oak beams and pine weatherboards, and rebuilt from there, keeping what they could to save money. About a third of the weatherboarding was salvageable. New boards were added and the whole lot was painted with heavy-duty barn paint so it all matched. Her builder urged her to replace the timber floors, but Gill knew that, with a light sanding and a good wax, they could be restored.
The rudimentary kitchen was turned into a dining room and brightened by painting the original whitewashed brick walls, which saved money on plastering. Gill enlarged the space by adding a small extension and merging it with an old storeroom. There's a new entrance too, connected by a passage along the side of the house. The original opened straight off the street into the living room. "That didn't really work, so we boarded it up. The yellow front door with stained glass is still there underneath, if we ever want to reinstate it."
Have fun mixing things up – perhaps stripes with florals, or animal prints with geometricsWith the structure in place, Gill could let rip with the colour and pattern. "The decorators would ring me saying, 'Are you sure? It looks horrible!' but I stuck to my guns. It takes courage to keep going with something like this."
The exuberance of the finished look belies the careful planning that has gone into it. Gill created a spreadsheet listing the paints, wallpapers, tiles and textiles for each room, to get the balance right. "I wanted it to feel coherent. At one point, I was dreaming about tiles every night."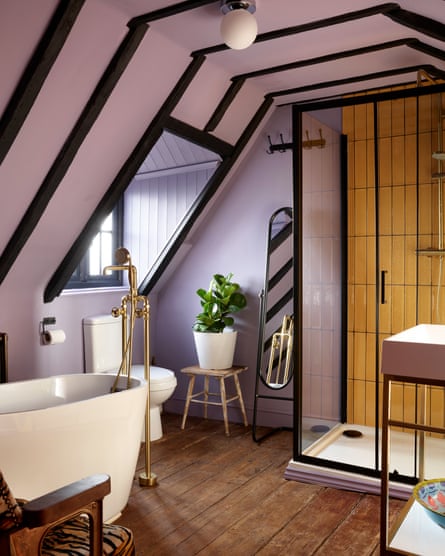 Lavender walls and saffron tiles form a striking contrast to the original black beams.
She advises starting with a favourite piece and building a room around it. "You might fall for a rug, a wallpaper or some bed linen, so pick colours from that palette. It can be hard to combine just a couple of colours; it's easier if there are three or four. Then have fun mixing things up, perhaps stripes with florals, or animal prints with geometrics.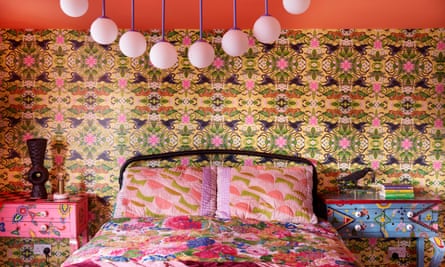 A mix of styles, patterns and colours, including wallpaper by Clarke and Clarke.
Gill avoids a "granny's parlour" look by including a couple of contemporary pieces in each room, such as art deco-style lights and mirrors from B&Q and Dunelm, H&M cushion covers mixed with high-end House of Hackney ones and a secondhand pink velvet Parker Knoll sofa. The riotous pink wallpaper in the living room is by illustrator April Mawhinney.
Gill's tip for combining pattern and colour without it feeling overwhelming is to apply Coco Chanel's supposed style advice: "Survey the finished look then take the most noticeable thing away." And, she adds, "a bit of leopard print always looks good".
instagram.com/miss.bibi.loves
... as 2023 gathers pace, we have a small favour to ask. A new year means new opportunities, and we're hoping this year gives rise to some much-needed stability and progress. Whatever happens, the Guardian will be there, providing clarity and fearless, independent reporting from around the world, 24/7.
Times are tough, and we know not everyone is in a position to pay for news. But as we're reader-funded, we rely on the ongoing generosity of those who can afford it. This vital support means millions can continue to read reliable reporting on the events shaping our world. Will you invest in the Guardian this year?
Unlike many others, we have no billionaire owner, meaning we can fearlessly chase the truth and report it with integrity. 2023 will be no different; we will work with trademark determination and passion to bring you journalism that's always free from commercial or political interference. No one edits our editor or diverts our attention from what's most important.
With your support, we'll continue to keep Guardian journalism open and free for everyone to read. When access to information is made equal, greater numbers of people can understand global events and their impact on people and communities. Together, we can demand better from the powerful and fight for democracy.
Whether you give a little or a lot, your funding will power our reporting for the years to come. If you can, please support us on a monthly basis from just £2. It takes less than a minute to set up, and you can rest assured that you're making a big impact every single month in support of open, independent journalism. Thank you.