Lost in time at the dramatic other-worldliness of the shingle headland spit that is Dungeness...
DUNGENESS
For miles around the Dungeness National Nature Reserve all that is natural or man-made is pitched upon shingle. This area known as Denge Marsh is littered with all manner of lakes and pools of irregular shape and size. A random collection of dilapidated sheds, fishing huts and decaying boats dot the landscape, abandoned and lost in time at the dramatic other-worldliness of the shingle headland spit that is Dungeness, with its long history of dogged human habitation. The desolate, remote wilderness of this protected coastline of international conservation importance comprising the largest pebble beach in Europe, is filled with unusual flora and is a haven for a plethora of birdlife. Strangely alluring, this extraordinary landscape is home to two lighthouses, the terminus of a miniature steam railway, a lifeboat house, Derek Jarman's cottage and eccentric garden, an art gallery, the original Tan Coppers for tanning nets, the Marconi structures, architect Simon Conder's remodelled 'black neoprene rubber house', an old stylish Airstream trailer, single storey timber framed houses of fishing origin with high pitched roofs to provide drying lofts and the Round House, the base of an old lighthouse, together.
The consideration that this is a ''curious, uncanny, sort of out-post of civilisation" was not lost on the late Derek Jarman. He was a film director, stage designer, artist, author and gardener who made his home here in the late 1990's. Here at 'Prospect Cottage'' (a black-tarred fisherman's hut with yellow window frames and door) he produced his very own 'theatre ', an idiosyncratic garden, built from the natural sculptural relics and stones from the beach, which he featured in his film War Requiem. Visitors from all over the world pay homage to his creative genius by pondering the array of natural installations.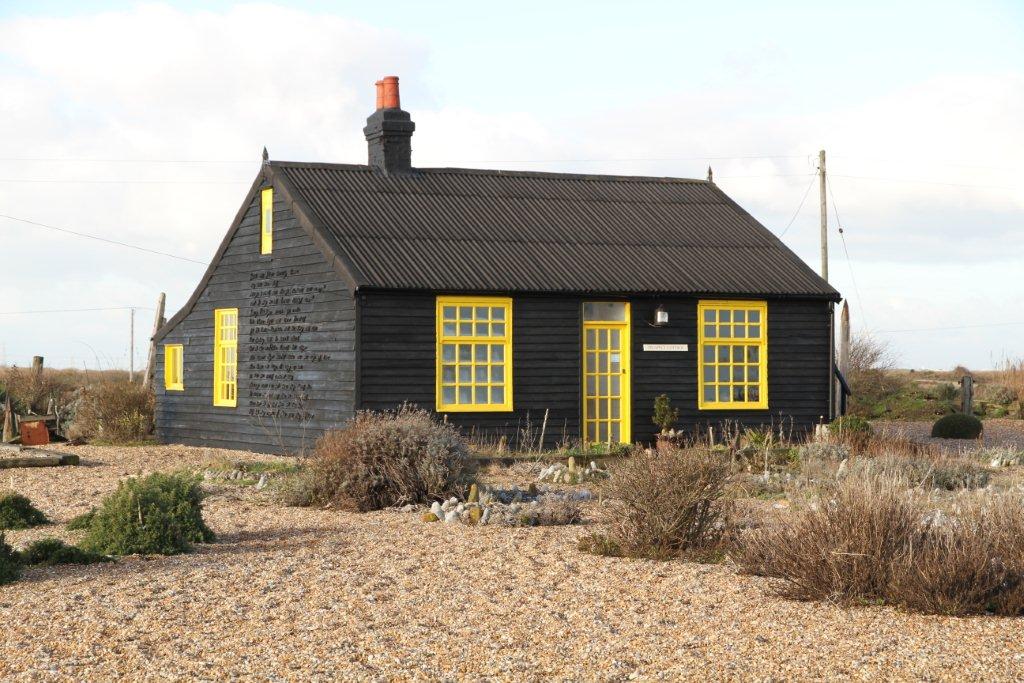 The route across the seashore to Camber Sands from here is not accessible to the public, which takes up much of the six and a half mile stretch of the shingled southern bank. It is a good idea, therefore, to double back a short way to The Pilot, a renowned fish and chip restaurant on the beach, before heading off in a north easterly direction to Lydd, which, before the great inundation, was set on its own small sandy island on the opposite side of the River Rother to New Romney.
Today, many of the old railway carriages have been converted into contemporary stylish homes...much sought after by discerning artists and designers