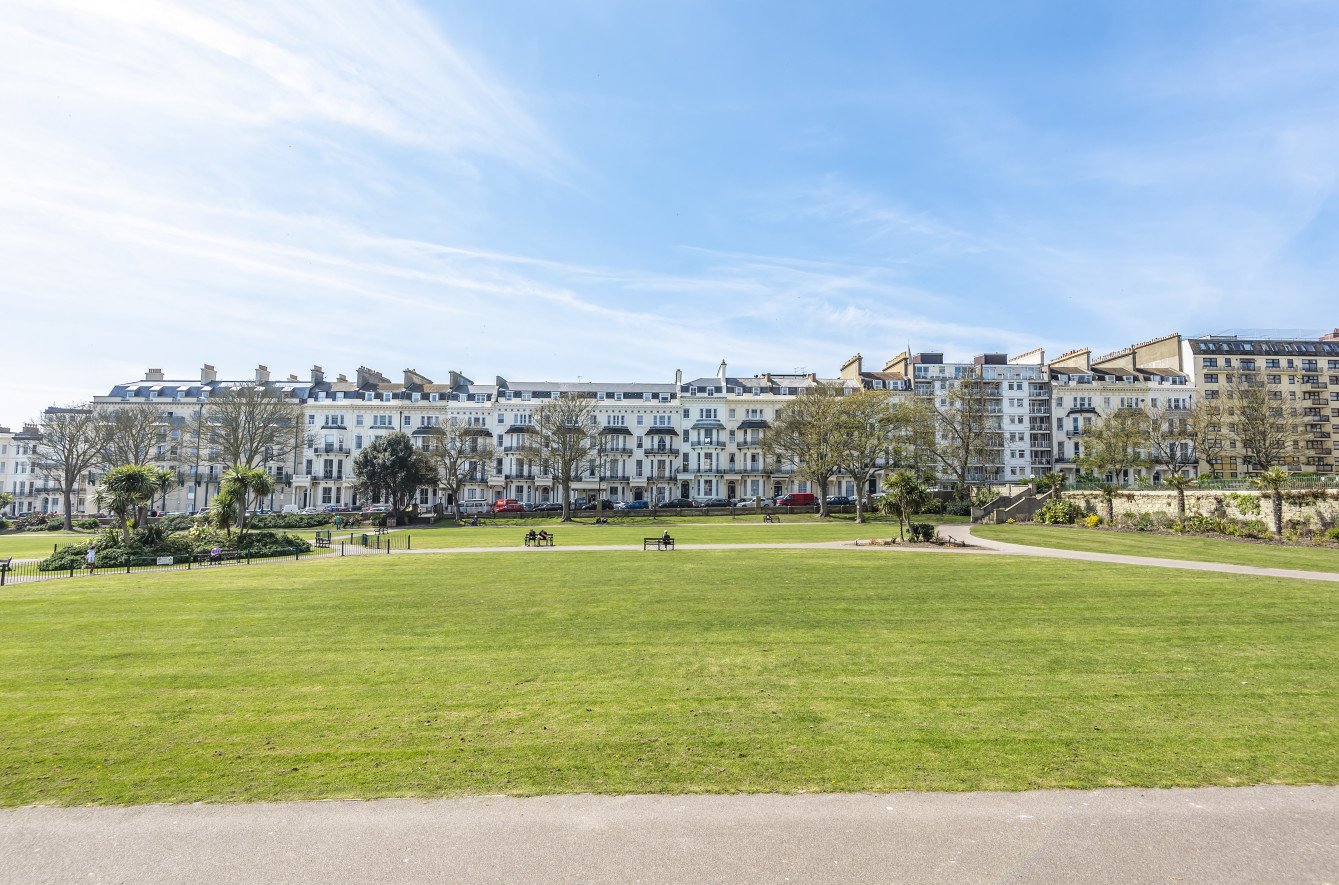 St Leonards-on-sea was developed by the renowned architect Decimus Burton in 1826, largely made up of stucco-fronted, colonnaded terraces and squares of Regency housing, fine mid-Victorian houses, a few Arts and Crafts properties and the iconic Art Deco Marine Court. Following a long period of gradual decline over many decades, the town has seen a resurgence over the last ten years and is attracting an unconventional crowd of artists, film-makers, designers, photographers,stylists, writers and other creatives – anyone who can work remotely- driven by the charm of the area, the lure of the sea, the architecture, its bohemian and eccentric atmosphere with boutique cafés and quirky, individualist shops, Kinoi-Teatro cinema, promenade and restaurants. Warrior Square has 17,300 square metres of landscaped green space with 3 sections: lower, middle and the Rose Garden. The railway stations at Warrior Square and West St Leonards offer a frequent service to London Charing Cross (90-100 mins), via Tunbridge Wells (34-45 mins) and Sevenoaks (54-65 mins); direct to London Victoria (2 hrs); to Eastbourne (23-33 mins), to Brighton (75 mins) and to Gatwick airport (90 mins).
To the west of the Old Town, 'modern' Hastings, with a mixture of Regency, Victorian and later buildings now merges with St. Leonards. Its popularity as a resort really began with the arrival of the railway in the nineteenth century which enabled and encouraged the enjoyment of seaside holidays by the Victorians. The town developed and grew from a population in 1801 of just over 3,000 to over 90,000 today. Hastings Pier, which was sadly badly damaged by fire in 2010, is a national treasure that was brought back to life as a sustainable, flexible platform able to accommodate a broad range of community and commercial uses. It was also winner of the 2017 RIBA Stirling Prize, the UK's top architecture award.
Overlooking the seafront at St. Leonards and visible for twenty miles along the coast on a fine day, is the remarkable block of flats known as Marine Court. Built in Art Deco style in 1937, it was originally called The Ship as its design was based on that of the Cunard-White Star liner, RMS Queen Mary.