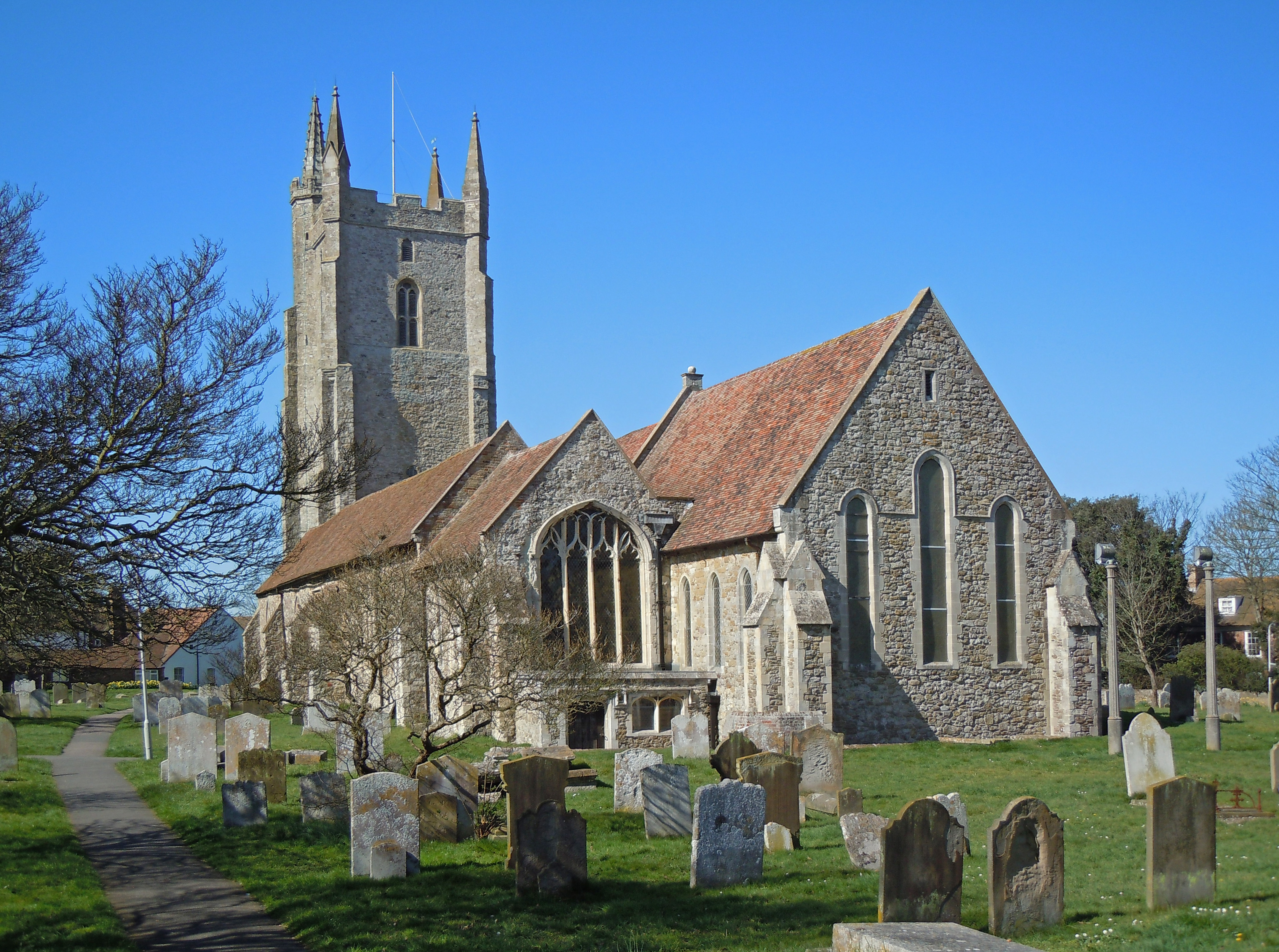 Lydd, mentioned in Charles II's Charter of 1668 as a corporate member of the Cinque Ports Confederation...
Lydd is the most southerly village in Kent, lying on Romney Marsh.
Lydd, once a limb of Romney (one of the original Cinque Ports), is effectively positioned on a small hill with the embattled tower of its Church standing high above the surrounding marshes and visible for miles. Even from here, down by the coast, it is possible to get the measure of it, but perhaps the best way of understanding its majestic status and the lie of the land, is to view it from North Street in Winchelsea ( seven miles away as the crow flies) just before sunset. Its luminous campanile shines above the Denge Marsh, a tall landmark on the plain with the Dover straits in the distance. It is little wonder then, that All Saints Church in Lydd is colloquially known as 'The Cathedral of the Marsh'.
The Church is one the longest Parish Churches in Kent and its tower, one of the tallest. Rector Thomas Wolsey raised it to its present height before he became Cardinal Wolsey. At 'The Dissolution', Lydd came back through the Crown to the Archbishop when Wolsey was still the Rector.
One particularly interesting feature of the Church is the alignment of a set of twin doorways on the west side of the tower. They were obviously meant to be, because they line up, symmetrically with the great west window. The Church itself is a mix of Saxon and Norman styles and as with many other churches on the Marsh it has a beacon and lookout high on the embattled tower. Inside the Church is the headstone of Thomas Edgar who fought with Admiral Hawke and served as Master on the 'Discovery' which accompanied Captain Cook's ship the 'Resolution' on his third voyage to the South Pacific. He served out his days as keeper of the Dungeness Signal Tower, while Captain Cook met his fate on the island of Hawaii.
There has long been a discussion as to which of the two towns on the old Rother estuary is the most attractive. On balance, New Romney has quaintness and can deliver the sense of ancient history and coastal protection, while Lydd has the grandest tower which commands The Marsh in all directions. They both have some very fine buildings surrounded by period cottages interspersed with more modern architecture.
The small, ancient town of Lydd lies on Denge Marsh between the shingle peninsula and highly protected area (SSSI, SPA, SAC, RSPB) of Dungeness and the fertile fields of Walland Marsh. Lydd, mentioned in Charles II's Charter of 1668 as a corporate member of the Cinque Ports Confederation has a conservation area within which 15 New Street is situated. New Street, despite its name, is one of the oldest roads in Lydd and was originally known as New Bigging. Lydd and the surrounding area are a natural haven for wildlife; indeed the peninsula is one of our most important migratory routes for birds and an amazing biodiversity of fauna. The marsh churches, of which Lydd boasts the 'Cathedral of the Marsh', All Saints, are timeless masterpieces. Seemingly remote, Lydd is only 30 mins to Ashford, 35 mins to Folkestone, 15 mins to Rye and 35mins to Hastings. Lydd provides a primary school, doctor and dentist surgeries, museum, 3 small supermarkets, hardware store, household and clothing stores, 3 garage repairs, petrol station, vets, 2 newsagents, a fine butchers, pubs and eating establishments. 3 miles to the east is the town of New Romney with a Sainsburys supermarket and further shops. Schools in the area include The Marsh Academy in New Romney together with the Folkestone School for Girls, The Harvey Grammar School for boys, Norton Knatchbull Grammar School for boys and Highworth Grammar School for girls both in Ashford, 17 miles to the north. Ashford International Station offers commuting services to London via a high speed service to St Pancras and Stratford in 37 minutes. The Channel Tunnel Terminal near Folkestone is 17 miles and the Ancient Town of Rye, famed for its historical associations and cobbled ways is about 10 miles to the west. Access to coastal bathing beaches is within 5 miles at Littlestone, where there is also an excellent links golf course and at Camber, 6 miles. Local leisure facilities include golf at Lydd and Littlestone, nature reserve at Dungeness and Lydd airport for pleasure flights to France