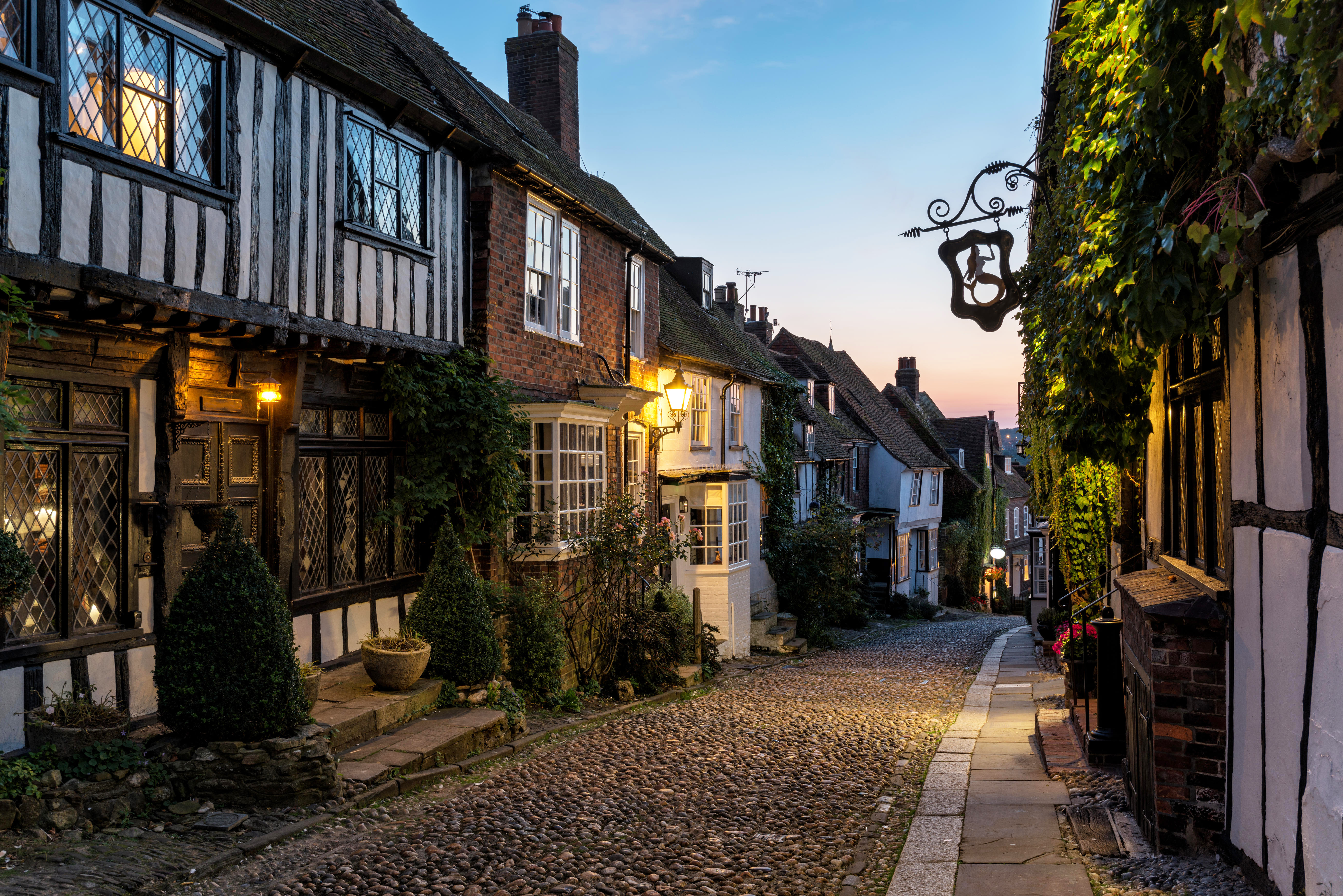 Rye. perched on the top of a sandstone hill with commanding views of the surrounding countryside and out towards the sea,
Location, location, location – as the man said, and it couldn't apply more than it does to Rye. Perched on the top of a sandstone hill with commanding views of the surrounding countryside and out towards the sea, it retains its ancient air of being out on its own. Once virtually an island, it was connected only to the land by a causeway, until the sea deserted it. Now, as the meeting place of three rivers and with an active fishing fleet, it still has its feet in the water. Set at the head of a once magnificent harbour, it was of great importance to the country as a trading, fishing and boat building port and brought great prosperity to Rye and its development as a town. However, at the start of the Hundred Years War with France in the C14th, it was very vulnerable to attack by French raiding parties.
In essence it is still the medieval hill town that was rebuilt after the French burnt Rye down in 1377, and today is easily accessible by road or rail and even, when the tide is right, by boat. Crowning the hill is the beautiful Parish Church of St.Mary the Virgin, originally built in the C12th by the Abbey of Fecamp in Northern France, to whom this part of the South Coast belonged at the time. An image of it on the Great Seal of Rye shows a Church with tall graceful spires standing in an un-walled town. Badly damaged in the French raid, it was re-built with its present square tower, but retained many of its original Norman features. Then, as now, it has always served as a beacon for travellers, being equally visible across the marshes or from the sea. You don't need to look for history in Rye, it comes to meet you at every corner and along each cobbled street. Half-timbered houses and seemingly plain fronted Georgian ones, whose facades covered in mathematical tiles to simulate brick, artfully conceal ancient timber framing, jostle with genuine Georgian houses , rarer Carolean buildings and little Victorian cottages, for their place on the narrow streets. Raise your eyes above the mainly Victorian windows of the individual shops in the High Street and you can see the true age of the buildings.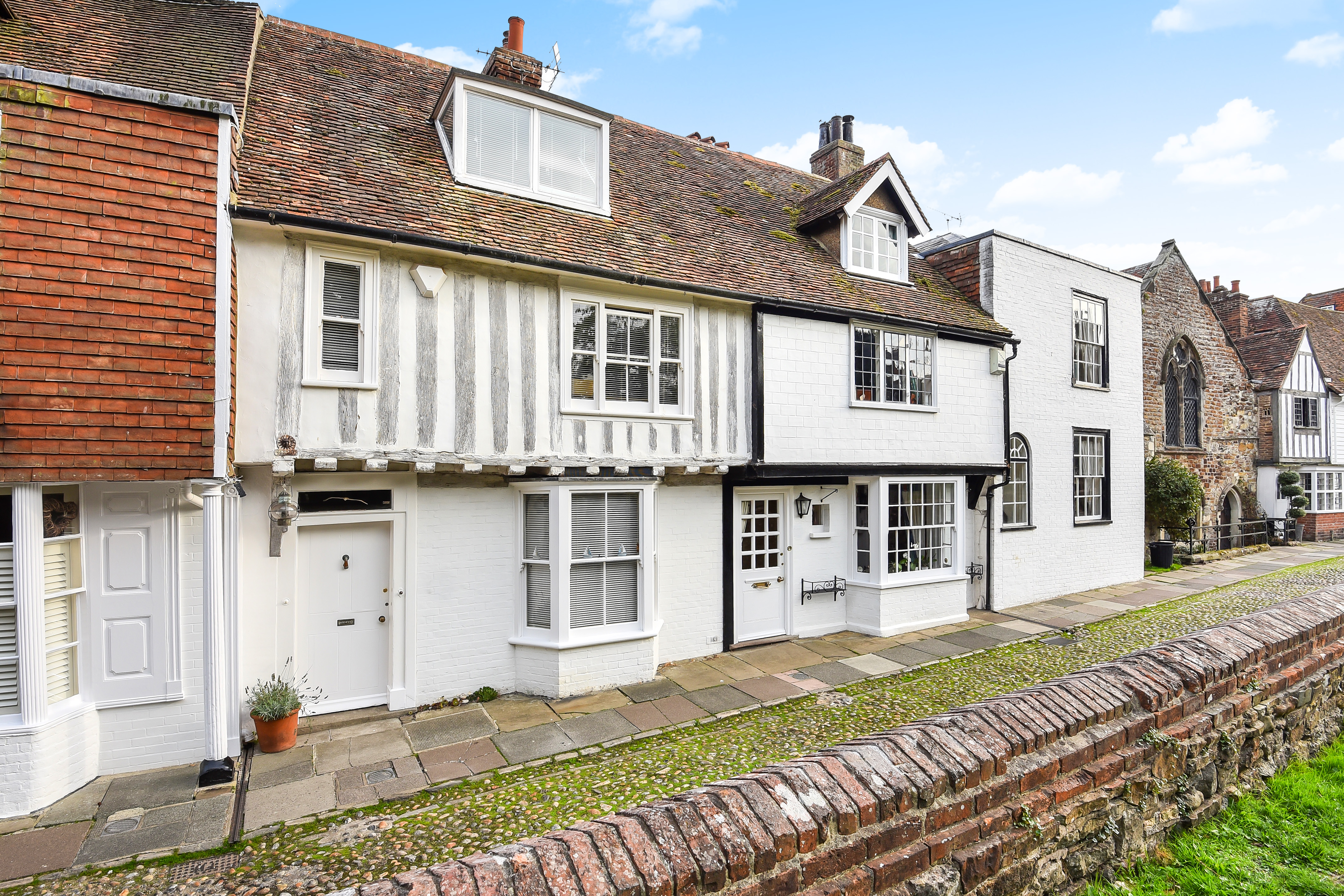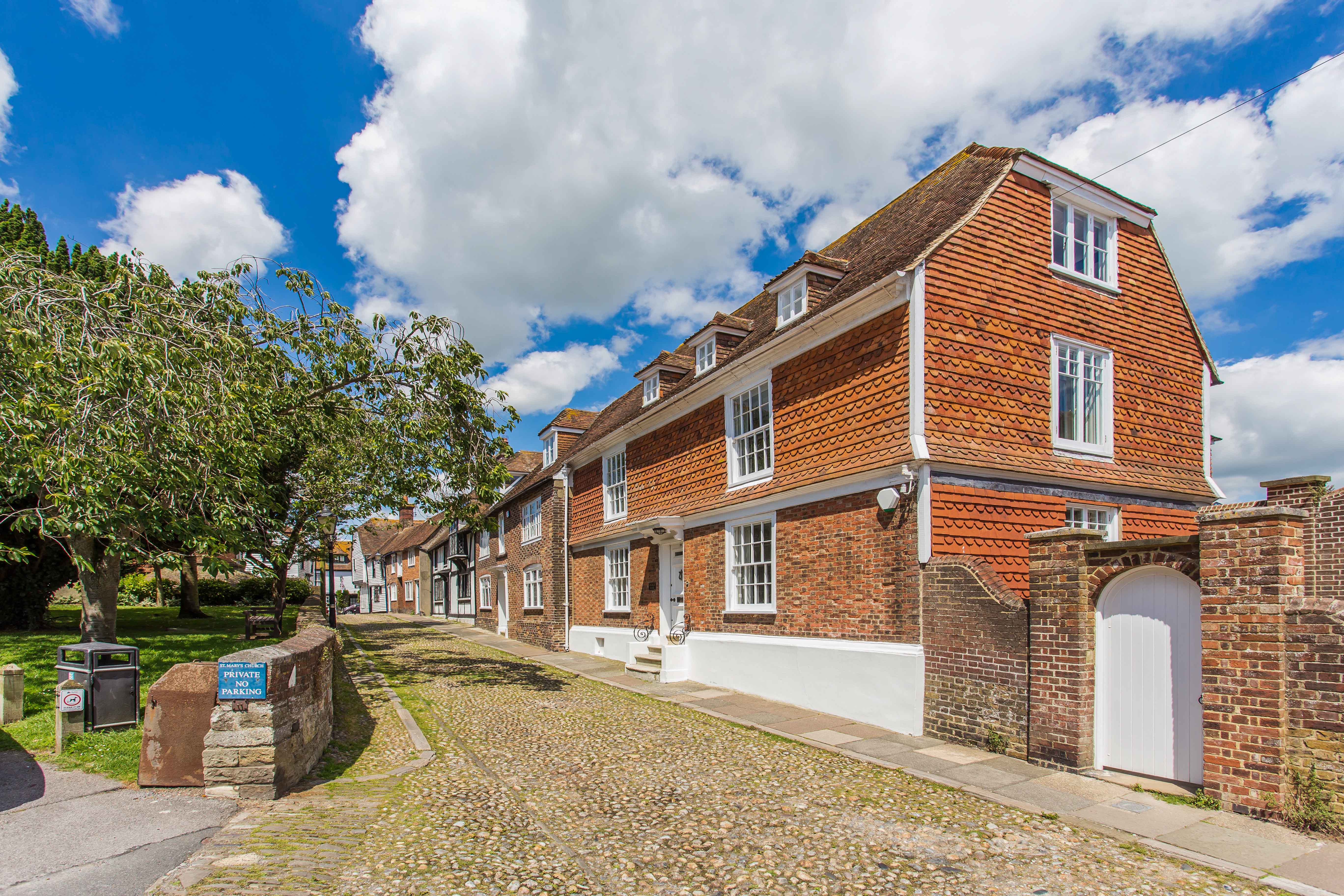 Buyers Profile
The holiday home market is strong in Rye and the surrounding villages, with approximately 20% of sales being for second homes or holiday lets. Other major buyers are retired couples, usually from London, who by downsizing are also able to release money to augment their pensions. Some of course are people who left Rye when they were young to further their careers, and want to come back to their roots. While others are those who came to the area for childhood holidays and have continued to visit ever since. A new and growing group are people who, since the advent of faxes, email and broadband, are able to work from home and want to move their families out of the city to what they rightly see as a better environment .
Since the seventeenth century at least, Rye has been a magnet, and in some cases a refuge, for artists and writers. The beautiful, sometimes Italianate light, the quaint buildings and streets, the huge skies and dramatic landscape of Romney Marsh and the nearby beaches, have all proved irresistible to professional and amateur painters alike. All of which is reflected in the number of art galleries and classes available in the town. Among the most remarkable and historically interesting images are the pencil sketches made by the Dutch Old Master Sir Anthony van Dyke in the C17th.
The American Henry James is probably the most revered writer to have lived in Rye, in Lamb House. There he entertained many famous English contemporary writers, including H. G. Wells, G. K. Chesterton and E. F. Benson, some of whom subsequently came to live in the town for a while. Of these, E. F. Benson stayed the longest, taking over the full lease of Lamb House in 1919 and living there until his death in 1940. He was three times Mayor of Rye and wrote the 'Mapp and Lucia' novels while in residence. These satirical stories about life in the small town of Tilling (a thinly disguised Rye) were filmed for television, later issued on video, and still bring many fans to the town to see where the characters lived. Lamb House ('Mallards' in the stories) is owned by the National Trust and open to the public two afternoons a week.
Where to shop
Rye is fortunate in having a High Street without the chain stores which make many a town indistinguishable from the next. Though famous for its teashops, antique, book and gift shops, nevertheless it still has food shops, chemists , hair dressers, opticians, hardware and kitchen stores, clothes and shoe shops, there is a large modern supermarket opposite the station. For larger stores and supermarkets, Hastings and Tenterden are within 10 -12 miles, while Ashford can be reached by car or train in 25 minutes and Canterbury is about an hour's drive away. Rye also has a direct train service to Eastbourne and Brighton. There is a Library, Post Office, Museum.
Markets
On Wednesday mornings there is a Farmers Market on the Strand by the river and a General Market on Thursdays and Bank Holiday Mondays in the old Cattle Market near the Station.
How to travel
There is a good network of buses to surrounding villages, and the town bus which circles Rye itself. The railway station is served by trains on the Hastings to Ashford line, connecting to high speed services for London and the Continent at Ashford, and Eastbourne, Brighton and Gatwick (via Eastbourne or Lewes).
Where to eat
Rye has a great variety of eating places, everything is catered for from breakfast via morning coffee to lunch, then afternoon tea and a full blown dinner or light supper. Many cuisines can be found, Chinese, Indian, Italian, Thai, and, of course, Fish. There are cafes, tearooms, hotels, restaurants, wine-bars, fish restaurants and take-aways. Most of the pubs also serve excellent meals. The majority of the fish and seafood served here is caught locally. For a change of scene, most of the surrounding villages have pubs or restaurants where Sunday lunch is a speciality.
Education
At present Rye is served by two primary schools at either side of the town, and one at nearby Playden. There is a new state of the art - primary school, in a central position .next to Rye Community College, thus bringing primary and secondary education together in one place. The Sports Centre and Swimming Pool are also located at this site which runs from the back of The Grove to Love Lane.
Private education is available at Ashford, Guestling, Hastings, Hawkhurst etc.,while Nursery Schools and Play Groups are also to be found in the area. Adult Education is catered for at The Community Learning Centre, Lion Street and at the Rye Community College.
Healthcare
Rye has two Doctors' Surgeries and three Dentists' Practices. The Memorial Care Centre deals with respite and post operational care and certain treatments. The nearest general Hospital is the Conquest at Hastings(12 miles) There is an Osteopaths' Practice , a Chiropody Clinic and a Gym. There is also a Veterinary Practice for the pets.
Sport and Leisure
Sporting activities and clubs include Archery, Bowls,Cricket, Cycling,Football,
Rugby, Golf, Tennis &Squash, Netball , Badminton & Watersports.
The Sailing Club approximately one and half miles away at the village of Rye Harbour
Wind surfing, kite sufing at Camber Sands 4 miles away.
Sailing and moorings link here and tide tables.
Worship in Rye.
St. Mary's Parish Church, Rye Methodist Church, St. Anthony of Padua Roman Catholic Church (Church Square area), Rye Baptist Church (Cinque Ports Street),
Bethel Strict & Particular Baptist Chapel (Military Road) Quaker Meetings for Worship (Tennis Club, Military Road) and Jehovah's Witnesses(Kingdom Hall, Rye Harbour Road)
Organisations, Associations & Societies Rotary Club, Rye & District Community Transport, The Royal British Legion,
ARRCC (physically disabled 18 -65), Age Concern, .R.A.F.A, Rye & District Council for Voluntary Service, Lions and a Masonic Hall. St John Ambulance. Rye Community Centre, Film Club, Bell Ringing, Church Choirs, Rye Singers, Rye Players, Rye Shakespeare Company, Rye in Bloom, the Rye Club & the Granary Club.
Town Events and Festivals
As you might expect, Rye has a varied and interesting programme of events and festivals throughout the year. The Rye Bay Scallop Festival is held in February,
July sees "The Siege of Rye" - a Medieval Fair & Archery Tournament, while August has the Maritime Festival, The Country Fair Horse & Dog Show and the Raft Race. At the end of August is the Rye Jazz Festival which hosts many notable musicians many of which play live in the streets. September is the month for The Rye Festival, arguably one of the ten best festivals in the country for Art, Literature and Music, and finally in November the Rye Bonfire Boyes light up the night sky with a spectacular torchlit procession around the town to the Salts where a 'normous great Bonfire' is lit by a celebrity and culminates in a breath-taking Firework Display. In between the main events are plays, musicals, outdoor drama, choral performances, school fetes, coffee mornings, open gardens and Christmas fairs and late-night opening for the shops.
Rye Harbour nature reserve
The Nature Reserve lies within a large triangle of land extending south from Rye, along the River Rother, past Rye Harbour to the sea, westward to Winchelsea Beach and northwards along the River Brede. You can explore both the southern and northern parts of the Nature Reserve on a long walk that starts at Rye Harbour, visits the Beach Reserve and Rye Harbour Farm, then goes inland along public footpaths to find Castle Water, Castle Farm and of course Camber Castle, returning to the start point along the cycle track beside Rye Harbour Road.
Hamlets & Villages in East Sussex approximate miles from Rye:
Iden 2.5 miles - Playden 4 miles - Rye Foreign 4 miles - Peasmarsh 4.1 miles - Beckley 6.1 miles – Sedlescombe 12.3 miles - Pett 7.4 miles - Fairlight 8 miles- Westfield 9.5 miles - Three Oaks 8.1 miles - Cock Marling 3.0 miles - Udimore 4.5 miles - Broad Oak 6.9 miles - Brede 7.1 miles - East Guldeford, 1.5 miles - Northiam 8.4 miles.
http://www.ryesussex.co.uk/